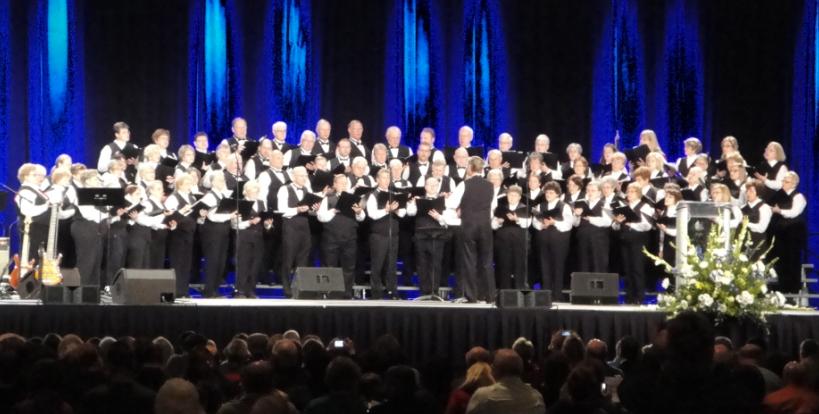 Celebration Singers at the Governor Pence & Lt. Governor Ellspermann Inaugural
Praise & Worship Service. Indiana Convention Center, Indianapolis. Jan. 13, 2013
>|< >|< >|< >|< >|< >|<
Thank you for visiting our website.

We are the Celebration Singers, a chorus of approximately 100 singers from Dubois, Pike, Spencer and Martin Counties in Southern Indiana.

The history of our choir is listed below, including information on this season's musical selections.

Stop and visit a spell. We are so glad you're here. Use the links at the left to see our Performance and Rehearsal schedules, Member List, Photo Gallery, and other useful information.
>|< >|< >|< >|< >|< >|<
2002 Our choir was born...... At a January 2002 meeting of the Huntingburg Music Club, a number of members and guests discussed the possibility of forming a community chorus to "sing for fun". Larry Feldmeyer volunteered to be director. Eighty-five singers from thirteen communities came to the first practice and the chorus was born. In June, the 1976 bi-centennial musical, "I Love America", was presented at the Salem United Church of Christ to a standing-room-only audience, and the Celebration Singers were on their way. The Celebration Singers presented six concerts during 2002.
2003 In 2003, "Prayer for America" was sung at five concerts to honor the many heroes who put their lives on the line to protect our freedom.
2004 In 2004, eleven performances were presented, consisting of Broadway musical and show tunes. We also presented our first Christmas program.
2005 2005 saw the Celebration Singers presenting "Legacy of Faith: A Concert of Remembrance and Hope" a total of six times in various communities. Several Christmas programs were also performed. Most importantly, the Celebration Singers, with the help of Jasper attorney Karen Krodel, became a non-profit organization.
2006 The 2006 performances featured music from the Fifties, Sixties and Seventies. The ever-popular Christmas program was also presented.
2007 In 2007, the Celebration Singers sang a program of hope, joy, and reassurance with "It's a Wonderful World". Several Christmas concerts were performed.
2008 The 2008 season included music selected for the Abraham Lincoln Bicentennial Mother's Day Celebration, a Stephen Foster Tribute, excerpts from Andrew Lloyd Weber musicals, German music, and, of course, a Christmas program.
2009 In 2009, the choir presented the program "The Music Inside of Me" with tunes including "Sing, Sing, Sing", "And There Is Music", "Put a Little Love in Your Heart", "Hungerin' In My Soul", "Shenandoah", "Our Help in Ages Past", "Let Me Fly", "He Ain't Heavy, He's My Brother", "Dry Bones", and additional songs.

The ever-popular Christmas program was well-received, as always. 2009 Christmas selections included a choir and audience favorite, the very powerful "Mary, Did You Know". We also added our own spin to the classic "Christmas In Dixie" which brought cheers from the audiences. We concluded our 2009 Christmas season by singing in the awesome, recently-remodeled church at the Monastery Immaculate Conception in Ferdinand, IN on Jan. 3, 2010. (See the pictures in our Photo Gallery.)

2009 brought several notable milestones for the choir. Tuxedo-style shirts, bow ties and red/black reversible vests were purchased to give a more professional look. We also expanded our performance area in 2009 by singing in October at both the French Lick Hotel and the West Baden Springs Hotel. And the choir was the subject of a multi-page Saturday feature article in the Jan. 9, 2010 edition of the Daily Herald.
2010 In 2010, the Celebration Singers continued the tradition of presenting excellent musical selections at performances across the Tri-State area. Our 2010 performances included "Legacy of Faith" and the "Stephen Foster Tribute", along with additional favorites from past seasons, plus new selections.

Our 2010 Christmas program was one to warm the heart, with new arrangements of familiar tunes, some songs that were brand new to the audience, and some especially for the children and all those "young at heart". Our special guests, The Chipmunks -- Alvin, Simon and Theodore -- made a special guest appearance to perform one of their hit songs. See them in our Photo Gallery. We also featured a guest cellist during the 2010 Christmas season. Twelve-year-old Addie Gabhart joined our string musicians for a beautiful rendition of "What Child Is This".
2011 The 2011 program was an enjoyable variety of musical styles featuring songs written by American composers. Many of this year's selections were spiritual in nature and provided an uplifting message for the audience. They included "Down to The River To Pray", "Hungerin' In My Soul", "Yes, Lord!", "Standing In The Need of Prayer", "Stand By Me", "Give Me Oil In My Lamp", "You Raise Me Up", and "O, America", among others. As always, there were a couple of patriotic selections in the program, including Irving Berlin's "America", "A Star Spangled Celebration", and "A Salute To The Armed Forces". One of our new selections this year quickly became a choir and audience favorite -- a beautiful and powerful composition of "How Great Thou Art/Majesty".
Our Christmas 2011 program was one to fill your heart with the spirit of Christmas, with such varied selections as "Calypso Lullaby", "Rise Up Shepherd", "Can You See The Light?", "Never Been A Night Like This", "Jazz Gloria" and "Glad Noel", among others. The brand new selection, "O Night Divine" is a composition that combines the Londonderry Air melody (think "Oh, Danny Boy") with lyrics from "Oh, Holy Night", to create a wonderful new piece. Two of our early Christmas concerts this year featured guest flautist, Anna Sophia, a very talented 16-year-old German exchange student.
2012 In 2012 we performed an uplifting collection of patriotic music called "Homeland" featuring some wonderful new arrangements of familiar songs, along with some that were completely new. This patriotic program was well-received and appreciated by our audiences. The 2012 Christmas program featured "Christmas Cantata", along with a rockin' "Rise Up and See the King", a fun piece called "No Time to Diet" and a choir favorite, "How Great Thou Art/Majesty".
2013 The Celebration Singers were honored to be invited to sing at Governor Michael Pence and Lt. Governor Sue Ellspermann's Inaugural Praise and Worship Service (pre-inaugural festivities) on Sunday, January 13, 2013, in the spacious Indiana Convention Center in downtown Indianapolis. We performed two very powerful selections, "How Great Thou Art/Majesty" and "A Prayer For Our Time" We were humbled to receive a standing ovation at the end of our performance, and deeply honored to receive personal handshakes from Governor and Mrs. Pence, and Lt. Governor Ellspermann as we descended the steps from the stage to the convention hall main floor.

Lt. Governor Ellspermann personally extended the invitation to our director, Larry Feldmeyer, in mid-December. Lt. Governor Ellspermann is a native and resident of Ferdinand IN, (in the heart of Dubois County) and has personal ties to some of our members. We thank Lt. Governor Ellspermann for the wonderful invitation.

We chartered two tour buses to transport the choir to Indianapolis on that day. We sincerely appreciate the generosity of local corporations and individuals alike who helped us cover our travel costs for this very special occasion. See the top of this page, and also see the Photo Gallery page, for pictures from the service.

For our 2013 season, we have added a wonderful rendition of "Amazing Grace" as a complement to "How Great Thou Art/Majesty", and we are bringing back "Let There Be Peace On Earth". To liven things up, we have added "The Beatles In Revue", a medley featuring 15 classic Beatles tunes, arranged by Ed Lojeski. The songs featured in this medley are sure to be familiar to everyone. This year's lineup also includes the sentimenal ballad "Homeward Bound" arranged by Mack Wilberg featuring four-hand piano accompaniment. A new rousing patriotic selection added this year is "The Stars and Stripes Forever". It's the classic John Philip Sousa march as you've never heard it before. We will add additional selections for each concert, so be sure to come see us often during the 2013 concert season!

Our 2013 Christmas program features Joseph Martin's Advent cantata, "Appalachian Winter" which celebrates early American carols with a lively folk music spirit. Also included in the program are "Celtic Advent Carol" along with "For Unto Us A Child Is Born" from Handel's "Messiah". Come join us as we welcome the Christmas season!
2014 From the true American musical treasures created by George and Ira Gershwin to a rousing rendition of "Daddy Sang Bass and Momma Sang Tenor" the Celebration Singers' 2014 summer program contains something for everyone. The memorable Gershwin songs add an exciting new dimension to the choir's repertoire. True to the choir's performance tradition, patriotic selections that respectfully honor America and outstanding sacred numbers are also included in the program.

Our 2014 Christmas program features many audience and choir favorites, including the beautiful and powerful "Mary, Did You Know?", Handel's "Hallelujah Chorus", and the soulful "Rise Up and See The King" which combines "Rise Up, Shepherds And Follow" with the traditional spriritual "Soon and Very Soon". We hope to see you as we celebrate the Christmas season with song.
2015 For our 2015 summer program, we have put together a "Praise Fest" of sacred selections. The program includes gospel numbers, spirituals, traditional anthems and some of the newer contemporary songs that will remind the listener that Jesus commands our destiny. Audience participation will be encouraged, and listeners will have a chance to sing along with the choir when the mood strikes them, or if they prefer to snap their fingers, clap their hands or just tap their toes, that's OK too.

The Christmas 2015 program brings a wonderful selection of "Sounds of the Season". Included are some brand new compositions along with some choir and audience favorites, including "Glory to the Son of God", the Spiritual "Somebody's Talkin' 'Bout Jesus", "African Star Carol", "Baby Born in Bethlehem", "What Child Is This", "Glad Noel", "All is Well", and the Caribbean beat of "Calypso Lullaby". A brand new selection, "All Through the Still, Silent Night", incorporates "All Through the Night", "Silent Night", and "Still, Still, Still". We also perform a very harmonious rendition of "The Christmas Song" (Chestnuts Roasting on an Open Fire) written by Mel Torme and Robert Wells, arranged by Mark Hayes. Check our Performace Schedule page and come join us to welcome the Christmas season.
2016 In honor of the Bicentennial of Indiana's statehood, our 2016 program will be patriotic and will feature the 1976 "I Love America" cantata which was originally written to celebrate the Bicentennial of the United States of America.

Our 2016 Christmas program will feature traditional favorites including "Hark, The Herald Angels Sing", "O Night Divine", and "God Rest You Merry Gentlemen", each with its own special composition. Hear the Christmas bells tinkle with "Carol Of The Bells" and "Ding Dong Merrily On High". Some of the songs in this year's Christmas line-up may be new to you. "The Yearning", "I Hear A Prophet Callin'", "Glory Is A-Comin' Our Way", and "Christmas Sanctus" may quickly become favorites. Several additional selections will round out the concert. Join us as we welcome the joyous Christmas season with song. See our Performance Schedule page for dates, times and locations. We look forward to seeing you there!
We are so appreciative of the wonderful audiences who come to our concerts. We are so glad to sing for you and share our love of music with you.
See our "Performances" page for a listing of times and locations for this year's program. Join us as we "sing for fun"!
>|< >|< >|< >|< >|< >|<
We would like to express our sincere appreciation to Jasper Engines & Transmissions who have been our corporate sponsor since 2005. Thank you so very much!
>|< >|< >|< >|< >|< >|<
We would love to hear from you. Click on the email link on the "Contact Us" page and send us a short note.

Thank you for visiting our site. Come back again to check on updates!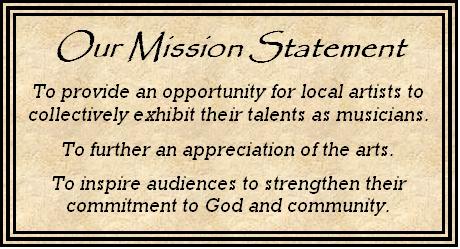 >|< >|< >|< >|< >|< >|<

Last updated 11/07/16
Site sponsored by Fullnet.com, Jasper IN